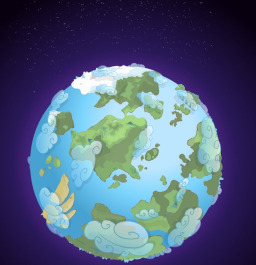 Source
These first stories take place during and after 1119 (Year of the Pegasus), 119 years after the night of the thousandth year of the Summer Sun Celebration.
Series One:
1: The Pony in the Cockpit
2: The Old Terraformer
3: The Broken Filter
4: The Empty Magazine
5: The Relays
6: The Stargazers
7: The Bright Spark
Series Two:
1: The Convenience Store, The story of Kir'gle - Chapter 1 (New!)
2: The Flight Plan, The story of Aqua Flux - Chapter 1
3: The Story - The story of Sugar Dew - Chapter 1 (Coming soon)
A quick bit of world building, at this point in Equestrian space. FTL travel has been developed, a good majority of the systems population has moved out beyond it's planets. Including corporations and a good portion of the fleets, what remains are those too stubborn or unwilling to go.
For planetary reference, starting sunward and working its way out.
Sol: Sun
Temperature: hot.
Planets: 7
Name: Azar
Type: Volcanic, atmosphere, mined
Habitable: No.
Name: Ryza Prime
Type: Barren, Mined
Habitable: Yes but only in the shelters
Moons: Ryza IV
Name: Equuis Prime
Type: Varied.
Habitable: Yes
Inhabited: Multitudes. Home planet of nearly all lifeforms in Equestrian System.
Moons: Singular, Home to the "Moon Ponies"
Stations: Freyja
Name: Glass
Type: Ocean
Habitable: Yes
Inhabited: Yes, Galotian Home planet
Name: Dunhexia
Type: Rocky, Some water
Habitable: Yes
Inhabited: Changelings Homeworld after the great migration.
Name: Kollam
Type: Barren, Sandy.
Habitable: Yes, but only with special precautions.
Moons: Kollam IV (The Dust Bowl)
Name: Tharatos
Type: Barren, Mined
Habitable: Yes, But only in structures.
Chapters (9)