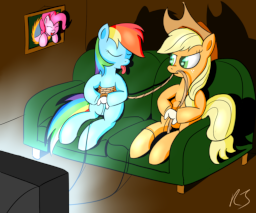 --LSD Dream Emulator is an obscure PS1 game made in Japan that is based off of the creator's dream journal. It is very scary in the sense that anything can happen at any time, and has gained a wide cult following for its desolation and all around eerieness--
The adventures in a video game world with no rhyme or reason behind executed by the fastest flier in Equestria and the smartest unicorn in Ponyville. Lulz ensues.
NOTE: Yeah yeah yeah, I know, the thumbnail has nothing related to the actual fic, and Twilight could have used her magic, but just bear with me here.
Chapters (2)