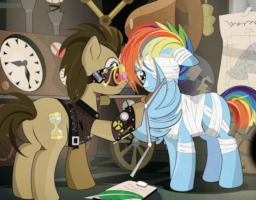 Source
Based on the King Sombra timeline of "The Cutie Re-Mark".
Rainbow Dash has always been a fighter. When the call to war came, she was the first to head to Wonderbolt Headquarters and sign on. With several mission under her belt, she has risen through the ranks and is now captain of her own squad. But war is hell, and when she is gravely injured, Dash has to rely on two ponies she's never met before. One, wants to help her fly again. The other, wants maybe something more.
Inspired by the cover art by the artist, dSana. Please check out their work! Many thanks to dSana for allowing me to use their art!
Chapters (2)