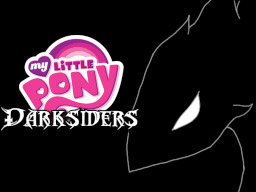 A world long forgotten by all, a place unlike anything imagined, and a race of creatures beyond anything ever known.
Now, after 2000 years, one of these beings must embark on a journey that will change his home land, Equestria, and maybe even himself.
This story is meant to have a true My Little Pony essence to it, to feel like a true "My Little Pony: Friendship is Magic" episode. Don't think of it as anything less than that. Just enjoy the story.
Recommended music to listen to while reading: Any or all Kevin Kendle music :)
New: My Deviantart page is now up, go check out the Darksider drawings: (http://colorbrush94.deviantart.com/)
Chapters (7)