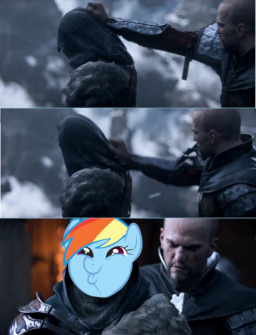 FIRST AND FOREMOST: No Assassin's Creed related material here.
All seems well in Equestria until a certain draconequus returns with a vengeance. This time, however, there will be no more fun, games, and chocolate rain. For some reason, Discord's not joking around anymore.
Twilight Sparkle and her friends must die.
Since this is Discord, however... there's going to be a convoluted way to do it. And what could be more convoluted than having a ragtag band of pony mercenaries with a shrouded past (at least attempt) to eliminate the targets?
Co-authored with DinamoKiev, a friend of mine. Rated T for strong-ish language in later chapters and gore. Some very slight grimdark elements later, possibly, and be aware of possible character death.
Lovely cover image is from Ponies'R'us. I do not own it.
URL: http://poniesrus.tumblr.com/post/12628083501
Chapters (2)