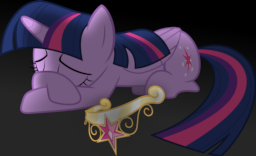 Cast the shadows out from sight
A final stand a shouting cry
All the wrongs now turned to right
So fight the past
Take back the night
And call upon the torch tonight
To bring out all the ghosts to light
Because at last we have to go it's time
To take back the night
"My name, is Twilight Sparkle. I am the newest of the princesses. After my achivement in-... How you say... The "Human" World, I had been given my own universe to rule on my own. But... Soon... It all backfired..."
Chapters (2)