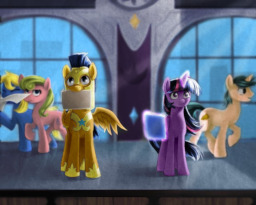 Source
A year has passed since Twilight's coronation as princess, and the only pony who isn't happy during the anniversary party, is Twilight.
Perhaps what she needs is a night to herself, to reflect on why she's afraid to break free from her chains and find happiness.
Or perhaps what she needs is an escape. A way to run away and forget her problems... just for the night.
Luckily, the perfect escape comes to her in the form of a stranger.
Or perhaps this escape is just her next set of chains.
Sex is discussed and reflected on, but not shown.
Part of the How We Lost It series, inspired by Fluttershy's Night Out
Proofread by Schattendrache
Chapters (1)