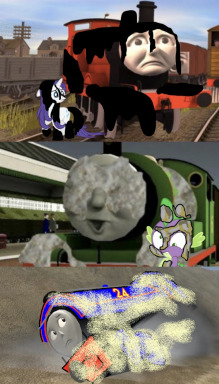 The first tram engine has came to Sodor.His name is Toby and he has a coach named Henrietta.Meanwhile,Rarity and James were taking a goods train when they crashed into tar wagons.
A new engine has arrived while a big rain storm came to Sodor.His name is Wilbert.Spike and Percy wanted to meet him.But,First they got themselves in a sticky situation.
The next day,Twilight,Thomas,And Wilbert were working at the quarry.Twilight and Thomas tried to warn him about the troublesome trucks.But,Wilbert was too excited to listen.
Chapters (3)