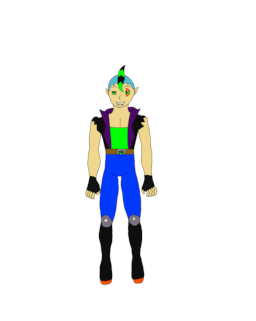 Source
Lobo Solaris is the biological son of Celestia and Balmut Solaris, When he was young he met the Sparkles who were family friends of his family. He befriended the Sparkle children and their friends to the point they call him brother. the Mane Six girls call him" spike" cause like his father he has spikey hair. Lobo made a promise to his "older brothers" that he would help them protect their sisters.
When He was 13 he and his father got into a traffic accident and both die but as he died he shouted to the heavens that he will not break his promise. Hearing this Devil God of death who's name is Lex brought him back as an Undead and made a deal with him.
So to get his dad back and to learn to use his new powers to protect his loved ones Lobo has to work for the Devil-God of death as a bounty hunter. easy right?
But what's not easy is that after coming back His older sisters start seeing him more than a brother.
Chapters (4)