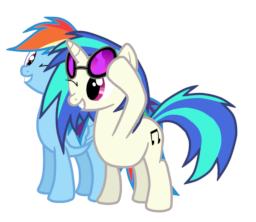 Source
Rainbow Dash is having a great time. She's just become a Wonderbolt, she's on R&R in Canterlot, drinking with her new comrades; in short, life is good. Then the alcohol sets in, and of course, a drunken dare is made.
---
A fun, simple little something that I made when I asked myself "who else could Vinyl be paired up with besides Octavia, and how?"
Sex tag is for highly sexual jokes and situations. Closest I've ever come to Mature, folks.
Chapters (1)