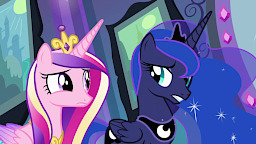 After her whole life as one of only two alicorns, Cadance is finally introduced to Luna. To call it awkward would be an understatement of the highest caliber.
---
A silly little something I wrote for a good friend of mine when she was having a bad day. Here's hoping it gets a laugh or a smile or two out of somebody else. Sex tag is for risqué jokes and discussions.
Featured on the front page from December 22nd to 25th, 2013!
Chapters (1)