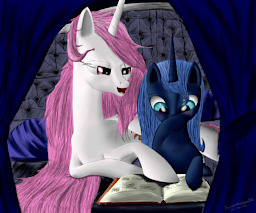 Memories are fragile things. So easily muddled. So susceptible to time's eternal erosion. For beings as old as Celestia, she knows this all too well, countless events, places, and faces mixing together into one giant blur. However, there are certain memories that her mind simply refuses to forget, and others that it seems far too eager to let go of.
When the princess finds an ancient relic, one of the few survivors from her nearly forgotten past, she believes that Luna may enjoy reminiscing with her about the things—both the good and the bad—that such an item brings.
--
Cover art created by me.
Chapters (1)