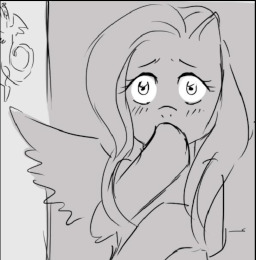 *Takes place a bit after Keep Calm and Flutter On*
After she had successfully reformed Discord, Fluttershy decides that he needs more friends to keep him better occupied, and also to make sure he stays good. Of course that friend would have to be as energetic as him, have at least a couple things in common as far as likes go, and be willing to take any and all craziness he's willing to dish out. Naturally, the first name to come to mind was Pinkie Pie.
At first, to Fluttershy, things seem to be going over quite smoothly. Pinkie Pie and Discord are getting along swimmingly; Pinkie Pie and Discord are at agreement's, and Pinkie Pie always seems to keep him in check, and best of all, all three form a strong friendship with each other.
However, before Fluttershy can go to any of her other friends about the good news, Fluttershy discovers a little secret between the two, that she now has to keep. That is, if she wants all of her friendships to stay afloat.
((Roughly based off of a continuing RP between myself and KiaraKovu123 as well as the cover image, which was the last panel of the beautiful DisPie comic drawn by rrred on DA... Seriously... Check her stuff out. It's simply gorgeous, darling!))
Chapters (2)