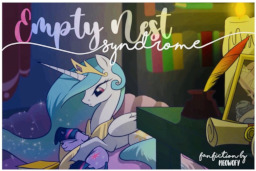 Source
Princess Celestia watches over a sleeping Twilight, thinking about her decision to allow one so precious to remain in a village so very far away from home; wondering if it were truly the right choice, and hoping it wasn't.
---
1st on featured 19/09/21! >.<
Cover Art is not my own. I could not find the original artwork, but after a lot of digging I found this reddit page about the art? The link to the DA seems to be wrong or something though.
Update about the Cover Art credits : Art belongs to probablyfakeblonde. Thank you, Ice Star!
Update Update CA credits: Art link on derpibooru. Thank you, Knight of the Raven!
Chapters (1)