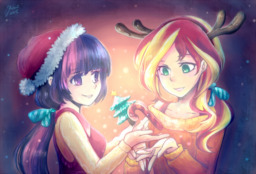 Sunset Shimmer. Everybody knows about the bully seeking redemption. She sees all the stares, she hears all the whispers, she knows how her classmates seem to look away whenever she meets their gazes.
And she couldn't expect anything less.
So it's no surprise when her... friends stay with their own families at Christmas, leaving her alone with no family, no company and the fire seeming cold and bitter - just like all the looks directed her way. But that was fine to Sunset, it was what she deserved.
After all, with all that she had done, forgiveness - never mind friendship - was surely impossible to earn, right?
Princess Twilight, upon learning of her intent to spend Hearth's Warming Christmas alone through the journal, travels through the mirror to gather supplies, exchange gold bits and most importantly, teach a mare girl a little something about friendship.
---
Featured 1/1/21! New Years Day!
This was written for TheBandBrony as a part of Jinglemas 2020! For more information about Jinglemas, checkout our group!
Chapters (1)