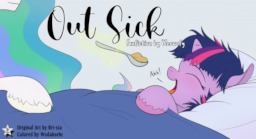 Source
Princess Celestia spends time taking care of a familiar sick little filly, and along the way, learns a lesson mothers - blood or not - all one day learn.
---
Took inspiration from Melt, go check it out - it was adorable!
Featured No.2 on 22/08/21, and No.1 on 23/08/21! Thanks guys!
Chapters (1)