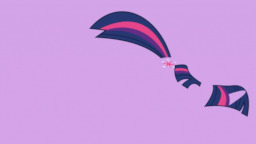 Source
This story is a sequel to Roar
---
Friendship can only go so far, and after one of those friends goes far enough to take her own life, it leaves the others depressed and forlorn. A chain of six, shattered by one link, until the other five can't even look at one another without thinking about what happened.
Twilight spends her days in a dark Trottingham apartment, chased by memories and haunting visages of what happened. What went wrong. What she could have done.
A visit from Fluttershy may be just what she needs... or another reminder of her failure. Their failure.
Chapters (1)