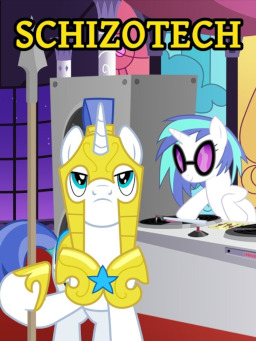 Ponies have a strange attitude towards technology. They ride railroads and fly chariots. They have advanced hydroelectric power plants and light their homes with fireflies. They plow their fields on muscle power and invent crazy apparatus for squeezing cider out of apples. They use x-ray and parade around with spears. They play dubstep and listen to cello. They have indoor plumbing and grow rocks in fields. They like horse drawn horse-drawn carriages and take color photographs of them to show their foals.
These are the stories of ponies and their schizotech.
---
A collection of independent short stories united by the common theme of ponies creatively applying their knowledge and friendship to push the boundaries.
I do not expect this to be a regular thing, but this will get added on to in the future.
Chapters (2)