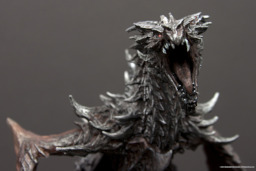 There's dragons in Equestria, everybody knows that. You know, those kinda peaceful, english speaking four-feeted clumsy dragons that most consider the most menacing thing of Equestria. There's more of them.
In the tallest spots of the Reaches are various deep caverns that very few stumbled upon, and those who did often ended up dead at the hands of the dovah; a strong breed of dragon long marked extinct by Princess Celestia herself.
That was fourty years ago. Nobody in the new generation knows of them.
They're back, and with them they bring the hunting season; a twenty year long cycle where they hunt for the most prized of meals, ponies.
Second person fanfic, uses dragon language of Skyrim. All MLP stuff belongs to Lauren Faust and the show dudes and all that Skyrim stuff belongs to Bethesda and the development team. Gore, maybe swearing. Description is extremely vague and will be updated later.
Chapters (9)