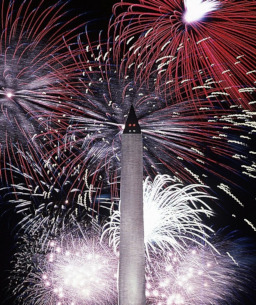 This story is a sequel to A Personal One-Pony Patriotism Parade
---
Amareica was made on this day, and by Luna, the citizens of the country are going to celebrate it with lots of bright stuff and firey stuff. History be damned and enough of the past, the awesome is happening right now.
Includes: The finale to an annual story series, featuring FERVENT PATRIOTISM LUNA and the ALL-AMAREICAN PONYVILLIANS showing their three visitors from the tea-country across the ocean how ABSOLUTELY BANGIN' the FOURTH OF JULY is.
Happy Independence Day!
Prequel stories not optional. Go immerse yourself in a short series full of FREEDOM, why don't you?
Chapters (1)