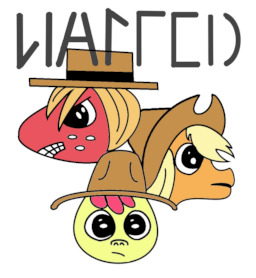 Luna's return from the moon resulted in civil war, largely pitting the Earth Ponies against the Pegasi and Unicorns. Luna and her New Lunar Republic forces eventually succumb to the overwhelming power of the Celestia's Solar Army, and a surrender is hammered out. Equestria is still a war-torn nation, struggling with the pain and devastation caused by the war.
Several months into the hostilities, Solar forces came to the hollow, pressing Big Mac unwillingly into their service. Unable to stomach the atrocities he's ordered to commit, he deserts his unit, trying to make his way back home. Out of sympathy and necessity, he falls in with a band of New Lunar Republic rebels. He takes part in some of their raids. For his troubles, he's branded a deserter, a traitor, and an outlaw. As the war draws to a close, his whereabouts are unknown.
Although ostensibly over, there are occasional eruptions of violence and unrest. It's an uneasy peace, and some fear that war may erupt again.
I have an overall story arc in mind, but each of the chapters should stand alone to be read individually. The first installment, "Eat the Clouds," sets the stage for Apple Jack and Apple Bloom.
Chapters (5)