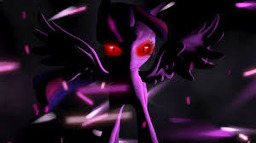 This story is a sequel to Dark Cloud
---
WARNING:
If you have not read Dark Cloud already, I strongly recommend NOT PROCEEDING. This description will ruin a huge chunk of that story. You have been warned. Please, before you ruin this for yourself, go check out Dark Cloud via. the link above.
And please, for the love of God, don't leave a dislike on this story just because you ignored this giant warning and read on anyway.
---
Equestria has been completely wiped off of the map, along with everypony in it.
Except one.
Ventus, in a final effort to save everypony, learns time magic from his half-brother, Midnight Sky. He travels back in time almost 8000 years to stop his evil ancestor Gale from terrorizing Unicornia. But little does he know that he and Midnight Sky could never have prepared for what they find hidden within the folds of history...
Chapters (2)