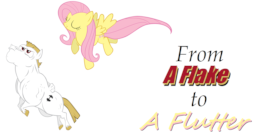 After the events of "Hurricane Fluttershy", Snowflake seems to be down on his luck. His enthusiasm was a catalyst in their success, but something deep down is preventing him from being happy.
Refusing to celebrate with the rest of the pegasi in Ponyville, he stays home to reminisce about his past and how he came to be the stallion he is now. After a few hours of sleep, Fluttershy appears at his door hoping to cheer him up a bit.
Will Fluttershy be able to help Snowflake get his problems off his chest?
Chapters (1)