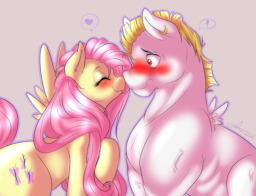 Source
Bulk Biceps and Fluttershy are partners in the Ponyville relay team, good friends, and two ponies many consider total opposites. One is an animal caretaker, symbolizing kindness though she cowers at any sign of trouble. The other spends time lifting weights, speaks boldly and brazenly, and struggles to fly with tiny wings that barely support him.
Though they might be different, that won't keep them from having feelings for each other.
Bear witness to their story, as their friendship blooms into romance in a tale of compassion, love, and generally acting shy.
Chapters (1)