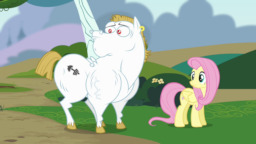 Everypony assumes Bulk Biceps enjoys nothing more than to exercise and lift weights. But he is a pony that finds pleasure in many things; including nature. One day, as he is in the meadow, he finds Fluttershy crying by herself. He wants to help, and knows just the way to do it.
A very quick little one shot I wrote for the Crack Ships Inc. April Contest. I hope it brings you some measure of enjoyment.
Cover art is a screenshot from Rainbow Falls. Not sure if I need to cite it, but there it is.
Chapters (1)