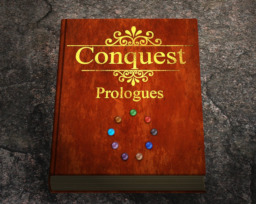 Source
It has been a hundred years since the elements and their bearers have disappeared leaving the land of Equestria in a state of disharmony. War has not consumed the land nor thrown into chaos that the princesses could not contain, but to say all is well would be a grave misconception. Crime is on the rise, darkness looms, pony society no longer hold the same values as they did years ago, the alicorn princesses can only fight so many battles at once alongside their other duties. And so they they watch on, helping where they can while waiting for something to turn the tides, to save the world from what it has become. Change was coming, but not the kind they wanted. Chrysalis, for years, has been scheming and preparing for her ultimate plan of revenge, one that could never fail even if it turns for the worst. Now is the time, everything is ready. All she needs are the players.
----------------------------------------------------------------------------------
This story is a prologue going over some events before the audio project my friend and I are working on called Conquest is released; these stories focus on most of the main characters. Episode one will be released soon, so this was made to give more depth and insight into the world and characters before the main story begins. Because of this, there are certain details you may need to be informed about before reading, ones which could not be covered in the story and, hopefully, answer potential questions you may have. Some of these details couldn't be naturally written into the story and so, for the sake of not leaving the reader confused, here's a quick few notes.
Conquest was written some time between seasons six and seven, certain details won't be included or are changed to fit our own headcanon, what works with our story / what we like better, and anything that contradicts what we have that is introduced from now on may or may not be added (it could be added, but changed to fit our ideas). Here's an example of what I mean: I hate how Tartarus is this one room or whatever with those mythical creatures and not a big prison with all these pillar islands harboring the most dangerous of criminals so guess what we changed that to? That isn't to say it will play any part in this story, but knowing how Tartarus works is needed regardless because Tirek.
This means the whole thing with Cozy Glow never happened, the school probably didn't happen and even if it did, would have no impact on the story whatsoever. Characters like Shining are well and dead, and Equestira Girls will have no part in this. As far as this world's concerned, that mirror and world does not exist (Sunset Shimmer probably still existed since she originates from Equestria, same with the most likely dead sirens as what other option would Starswirl have had, not that it matters). Further more, we will not be taking much from comics except some ideas for backstories and the like, minor things if any as between my friend and I, we have not read enough to actually implement them and there are lots of un-explainable contradictions. And yes, the main six are dead, very, very dead; this will be heavily implied throughout. No resurrections, no time travel. Dead.
That is about all I can think of at the moment, if you have any questions, I will try to answer them or tell you to wait since it may come up in future episodes; dependent on spoilers and all. The last thing I want to do is ruin anything. Anyways, enjoy the story! I will be updating the description once the episode is released and putting out a blog for those interested.
Oh, and before I forget, Ilvaria and Griskal belong to my friend VChart920.
Chapters (8)