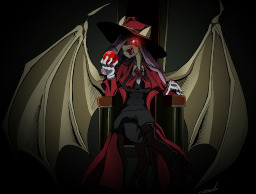 Source
Most ponies are familiar with the legendary Vamponies. Powerful, demonic, immortal creatures that roam the night feeding on the blood of mortal ponies, sowing chaos and destruction and leaving death in their wake. But none are more well known nor so reviled yet so revered as Alushy: Countess of Blood, The Nightwalker, the Crimson Demon, the Queen of all Monsters and the twisted Element of Kindness.
This is not a mere story but a chronicle of a once beloved Pony's transformation and their fall into chaos and destruction and the dire consequences that resulted.
So, this is my first work on this site. . . Yes I know this has probably been done to death but I have had it in my head to do any Alushy story since the day Bats! first aired. This is not an EQ but it is an anthro AU because: Hands! I stink at writing story descriptions btw. Get used to it.

.
Chapters (3)