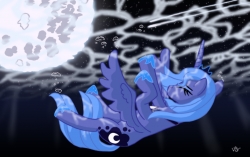 A short introspective story of how Luna came to be banished to the moon, and the aftermath of her return.
Fair warning, though, a quick skim or a casual read might leave one confused about what's going on. Conversely, I believe that taking your time to read and connect the details will answer any, or at least most, questions you might otherwise have.
And finally, any constructive feedback you might have is welcome, whether it's positive or negative. If there are issues that need to be fixed, it's better to know.
Picture used with kind permission from LifeSequenceBreak.
Chapters (1)