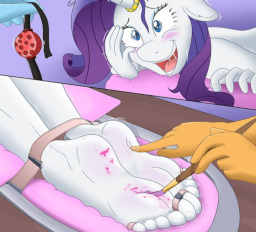 Source
CONTENT DISCLAIMER: implied Rarijack, bantering, bickering, implied submissiveness (zzz), feet (*vomit*), tickling (kill me now), pretty much no nudity. Anthro, and, as such, not hydrocephalic highschool humans!
More than once Rarity has lured in a friend under the pretense of a free massage and tickled them to bits instead. However, Applejack and Rainbow Dash decide to get vengeance. They have a fair few things to get back on her for, and she won't be going anywhere, anyway.
The Ponyville spa puts up with a lot of stuff.
Chapters (2)