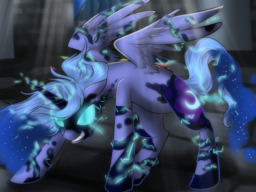 Nightmare Moon. Everypony in Equestria knows the stories of this dark, imposing figure, though many believe her to simply be an old mare's tale meant to frighten their foals into behaving. Those educated in history know that the Mare in the Moon was very real, and very nearly overthrew Equestria once long ago. But even the most thorough history books fail to mention the truth of what had occurred over one thousand years ago, back when Equestria herself was still young and vulnerable.
Only two ponies alive know the whole truth, the princesses Celestia and Luna. Only they remember Luna's city-state. Only they remember the true ferocity of their war. Only they know the full extent of the consequences Equestria was made to face because the alicorn sisters failed to recognize the others' feelings...
Cover art by Recycletiger.
Chapters (4)