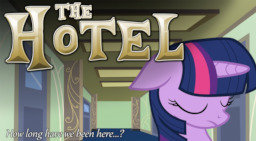 Against all knowledge, possibility and explenation, there exists a hotel. A three story building of luxurious design, it's halls are filled with kitchens that never run out of food, an indoor waterpark that always functions, an arcade full to bursting with state of the art game machines and several rooms with the finest quality of beds one can imagine. It seems like a paradise, a place for a perfect dream vacation. But there is a catch...
Nopony who has entered has ever left. They are trapped within the walls. Windows are unbreakable, the fire escapes lead back to the lobby, the front entrance is sealed and cannot be opened. To make matters worse, nopony even knows how they got here...
And Twilight Sparkle is the newest arrival.
EDIT: This got featured the same morning I posted it. What a wonderful surprise to wake up to!
Chapters (1)