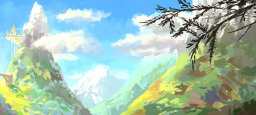 Source
This story is a sequel to Valse De La Lune
---
Set before the events of Valse De La Lune, Ser Ever Vigilant and Company are preparing to travel Equestria as part of a diplomatic trip. There they will encounter new friends, dangerous foes, and above it all, experience the ascendancy of two sisters to godhood.
---
Rated Teen for profanity, violence and death, and mild Gore for specifically violent moments. Sex tag for references and allusions to sex, but contains no actual sex scenes.
Second story to be released in the saga, set chronologically before Valse De La Lune. Reading that one before Companions is recommended.
Chapters (1)