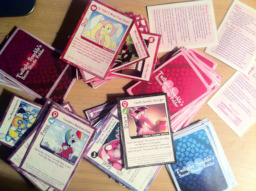 Source
How do you make a story out of a chaotic hodgepodge of ever shifting and random pairings? That's a good question. How do you do that? Anyway, I tried. Heaven help me, I tried.
--
This fic was inspired by Bronycon and the "Twilight's Secret Shipfic Folder" card game, which I and other writers there played the hell out of. In fact, it is my attempt at a direct re-creation of a game in narrative form. Bolded words are a direct call-back to the cards being played.
You can also find info about the game itself here. And it was so worth the purchase. No regrets!
Chapters (1)