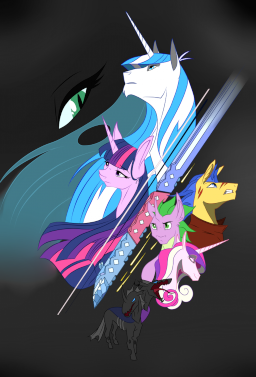 Source
The discovery of a temple has the residents of Ponyville in an uproar, but what lies inside will ultimately decide the fate of not only Equestria, but of the whole world.
After her daughter Nyx and friends stumble upon an old and broken shrine within the Everfree Forest, Twilight Sparkle sets out to study the incredible find. But not all is what it seems, for something lies within its centuries-old walls. When Spike becomes possessed by a mystic stone, Twilight and her friends are faced with a being unlike any they've ever faced, setting them all on a path more dangerous than any they've walked before.
////
Nyx belongs to Pen Stroke, and I take no credit in the creation of her character.
Original Cover Image was done by Folklore17
Be forewarned; this is a multi-act story. There will be four in total. Also, the story has been undergoing edits. Be prepared.
Chapters (22)