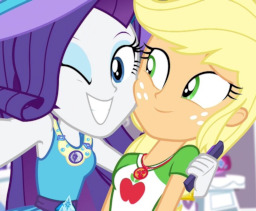 The romantic dreams Rarity had been plagued with were now starting to become clear. She desperately wanted to know who they were about and it seemed her subconscious was finally ready to give her an answer.
BIG thanks to my Bata Reader TecnoSmurf and for keeping me inspired to finish it!
This is a 4 chapter story and will be updated every week!
Teen Rating for sexually implied situations
EG Universe Story only; Sunset shows up but the others girls show up briefly; They are all around 18, seniors in HS;
Chapters (4)