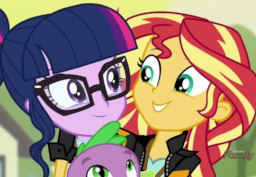 What happens when you kiss your best friend because of a silly mistletoe tradition? Something has sparked between Twilight and Sunset that neither of them realized they were ready to face. And all right before the Christmas Formal. This is a story about two friends. The struggle of hiding feelings and the discovery of them blossoming.
Rating is teen for use of alcohol and sexual advances.
Original artwork is to be uploaded (at some point?) for the cover.
I've also recently gone through and re-read the chapters and found quite a few grammar/spelling errors. I've fixed all I found but please tell me if I missed any!
This is probably the first multi chapter story I have ever finished. I've been working on this for nearly 2 years and I hope you all enjoy it!

Chapters (4)