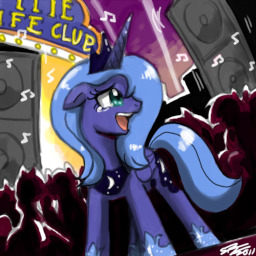 Source
There's a new night-spot in town and Luna wants to go more than anything. But who shall she go with? What could she wear? And can a princess mingle with ordinary ponies at all?
Surely, scandal is in the air.
NOTE: This story was written between season 1 and season 2, before anybody knew anything about Luna's personality. However, I am not going to revise the story... it is what it is. The extent to which this can be reconciled with Royal Canterlot Voice Luna is in the reader's hands now. Take it for what it is.
Chapters (1)