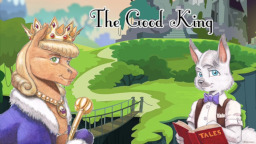 Source
A historical pony "fairy tale" which, like most such fairy tales, is intended as much to instruct as to entertain the young. This ancient story (older than Equestria itself) demonstrates how sovereign rulers can lose touch with those whom they rule, and how to make amends when such things happen. This story is told in a very old style, but its lessons are as applicable today as they were before the Great Equestrian Migration. As this is as much a work of scholarship as it is of storytelling, historical analysis is provided by Royal Archivist the Crown Princess Twilight Sparkle, and commentary graciously provided by Her Royal Highness the Princess Celestia.
Perhaps Sombra would have benefited from having this read to him before his bedtime, and Crystalline history would have been a very different thing indeed.
This story is suitable for all ages, from the youngest just learning to speak to the oldest who wish to feel young again.
Chapters (1)