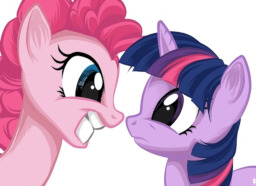 Source
Twilight is practicing her latest spell; one that let's her read the minds of other ponies!
She asks Pinkie to help, since nothing could possibly go wrong. I mean, it's not like Twilight could mess up the spell, causing Pinkie's mental patterns and memories to infect Twilight's mind; that would just be silly! And even if that did happen, Pinkie would help her friend reverse the effects.
...Wouldn't she?
---
Image by the ever-amazing mysticalpha, used with permission.
Thanks to SonicBrony for proofreading.
Fanart! (

); Think Pink by applecream
Chapters (7)