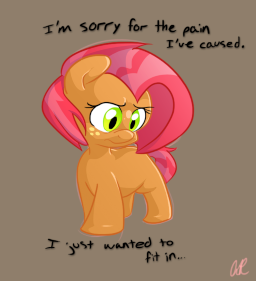 Source
Why did the CMC forgive Babs Seed so quickly? She's just a bully right? A quick one-shot creating a backstory for this mean, heartless beast that obviously didn't deserve their friendship...right?
Author Notes: Set during Bab's train ride from Manehattan, right before she arrives in Ponyville.
Thanks to SlushieOwl for letting me use her awesome picture located here: http://slushiowl.deviantart.com/#/d5m4732
Also, my first story ever, constructive criticism would be awesome!
Chapters (1)