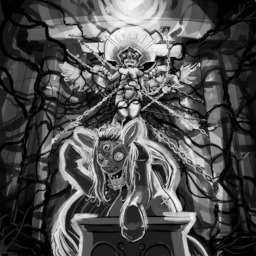 Source
This story is a sequel to Becoming Them
---
Manehattan has fallen. The princesses are silent. Coco Pommel and Babs Seed are unlikely partners struggling for survival in what's left of a world gripped by death. As they cling to one another through hope and despair, they pray for the chance to escape and meet other survivors. Then, one miraculous morning, it seems their prayers are answered in the form of a new ship at harbor.
Yet salvation comes at a price neither of them may be willing to pay...
---
Part one of my collaboration with the inimitable RainbowBob.
Preread by RainbowBob (of course), edited by the talented Hopeless Appraisal and SpaceCommie. Thanks guys!
Cover art commissioned from Kvernikovsky, the awesome artist behind the Researcher Twilight ask blog.
The Them Series
Chronologically from Top to Bottom:
Origin of Them
Feed Them
Entertain Them
Hunt Them
Becoming Them
Guide Them
Chapters (1)