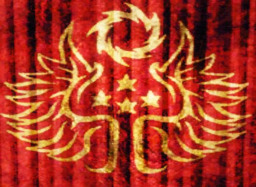 Source
Myrtana united kingdom under King Rhobar The Second, for his lifetime he managed to defeat all of the enemies of the kingdom... besides one. War with orcs was extremely expensive and that price was going to be paid by small group of criminals. King needed a swords and shields for his army, so from now on every pony that comitted even small crime, was forced to work in mines of magic ore in Valley of Mines in Khorinis. And so they cannot escape he've sent his greatest mages so they could lock them under Magic Barrier. Between them there was Xardas, Corristo and Saturas. But something went wrong, suddenly something broke magic spell. Magic barrier went out of hoof and locked not only prisoners but also mages and created a prison above whole Valley of Mines. Prisoners quickly took advantage of this situation. Now Colony was in hoof of the Prisoners. King had no choice, he had to negotiate. Month by month king kept sending prisoners everything they needed, so they could in exchange send him magic ore. One prisoner is waiting for Rhobar to decide, will he be executed or sentenced to lifetime work in Colony....
---
This story is a short Prequel for a bigger project I've had in my head over few years. It tells a story of a new ponies and also known ones. By new ponies I mean created by me and ponyfied characters from my favourite game series Gothic.
Sequel of Vengard will also be an unofficial continuation of my favourite fic: "I love you Princess Luna".
It tells story of a Royal Guard thar felt in love with Princess Luna, he soon saved her from death but also died by lightning bolt. His friend gave Luna his journal and soon she got in love, with nameless Royal Guard that saved her life. In my unofficial continuation, I will spoil you this, he will be alive and also reconnect with Luna.
How this story will end?
I don't know but one thing is certain. Everything is going to be all right...
Chapters (1)