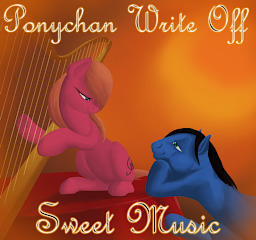 Source
Writefriends from all over Ponychan gathered in a war of words on the weekend of August 4th. But who is the greatest a/fic/ionado? The decision is yours. Vote, rate, and choose your favourites!
The stories listed above VOTING are the finalists.
Authors are anonymous, so you won't know who wrote what until the voting stage is over.
Unlike previous events, the final decision is entirely up to the public. Yes, that means you. So take a gander, enjoy the show, mull it over, then head down to the survey to cast your vote.
This round also introduces a new addition the event: /art/. Instead of worded prompts, the prompts were drawn by our drawfriends in /art/ (See: Sweet Music - Art<->Fic Relations for which story was written to what prompt).
Chapters (22)