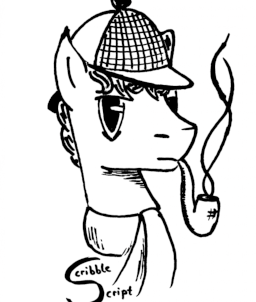 Sherlock Hooves, one of the greatest minds in the world. And also only consulting detective in the world. He has often been the last hope of the royal guard's investigative bureau at Palace Court.
Now, only recently, some long lost journals of Trotson, best friend, colleague and biographer of Sherlock Hooves. So, my faithful readers, let's take a seat and make a literary travel back to Canterlot as Sherlock knew it, over a hundred years before Princess Luna's return and accompany the great detective at some of his cases!
-Yours truly, Scribble Script
First Case - The Brightwater Murders : A series of five murders that may or may not be connected arouse the interest of Sherlock Hooves.
Second Case - Revenge of the Mummy: Has the mummy of an ancient Coltyptian Queen risen from its eternal slumber to punish those who dare to disturb its rest?
(Author's note: As I am planning to stay in the same universe -or multiverse- in all of my stories, reuse of some Characters and contexts from my other stories can occur.)
Chapters (9)