I'd like to discuss a truly wonderful little moment in Legend of Everfree. Let's just slap on one of these to make sure this is safe for those who haven't yet seen the movie and plan on doing so: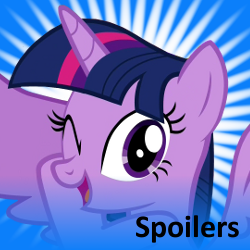 Now, suppose for a moment that you are human Trixie. You've spent your entire life dreaming of having supernatural powers. Then one horrible, wonderful night, you discover magic is real… and you don't get any.
Still, it's not so bad. The school bully got humiliated in front of the entire student body, you're no longer her brainwashed demonic thrall, and again, you now know that magic really exists. Surely if those jokers could get magic for a night, so can you. Also, the weird new girl was some kind of horse demigod, which is pretty neat, even if she does seem a bit wary around you. (Actually, that's even better. Even gods step carefully around the Great and Powerful Trixie!)
Fast forward a bit. You have a shred-off with one of the lucky girls for a truly amazing guitar… and her magic comes back. Wings, ears, and a shockwave that sends you rump over teakettle. She lets you have the guitar. Why shouldn't she? She stole your dream instead.
Also, the stupid thing costs way more than you anticipated.
The Musical Showcase arrives, only it's the Battle of the Bands, a far better opportunity to present your greatness and power. The horse demigod is back, but whatever spell she tries to cast doesn't work. Justice at last! You and your band climb to the semifinals, up against the lucky girls. Sunset does a sabotaging stage dive, guaranteeing your victory!
… Except it doesn't. The principals give it to the Rainbooms. They stole your hopes and dreams. Again. But the other new girls give you a wonderful idea. A terrible, awful, wonderful idea. One that will more than make up for the pink one ruining your disappearing act.
You trap the filthy cheaters beneath the stage so they can hear you perform where you deserve to be, front and center, all eyes watching. The Dazzlings go on next, and their music… is…
The sound of drums breaks you out of your revery. The Rainbooms escaped! You don't know what amp they're using, but you can see the glow of their magic from where you stand. A true battle ensues, your very will bobbing in the current as titans clash. Your awareness fades as the Dazzlings deliver a devastating blow, but then Sunset Shimmer of all people takes up the microphone, and the seven girls summon a giant freaking energy horse.
You sing along. You hate yourself for it, and you hate that you hate yourself for joining something so incredible.
At least you manage to break up the kiss that the story says should happen, though the pink one sees through your disappearing act again.
Only afterwards do you see what the Dazzlings did to you. Their honeyed words turned you into their pawn, their tool, a weapon in the hands of those enchantresses that couldn't even do its job right. Though given what that job might have really been, given what the drop into the storage area might have done to those girls…
Well, you already knew they were lucky.
Move on to the Friendship Games tryouts, where people perform to impress Vice Principal Luna. You don't impress her. You, the Great and Powerful Trixie, when judged on a performance, fail to make the cut, when devil sticks, bizarre fight-flirting, and whatever the grey girl did are considered sufficient.
You resign yourself to watching Canterlot High lose, but then Rainbow Dash gives a pep rally so amazing, it triggers her transformation without her even playing guitar. These thieves of hope and dreams have actually given some back, even though you know it's an empty promise.
You take it anyway. They're not even mad about the Battle of the Bands. They cite the mind control.
They're so much better than you, it hurts.
The Games begin. A girl who looks eerily like the demigod horse is playing for Crystal Prep. Curious, but nothing to get worked up over. The Academic Decathalon comes surprisingly close. Canterlot may actually have a chance.
Then the triathalon turns into an Ogres & Oubliettes encounter, complete with multiple magical transformations on the part of the lucky girls. They manage to contain it. You breathe a sigh of relief. You may want magic, but that's a bit much. You hope they've hit their quota for the Games.
So, obviously, Little Miss Not-Horse-Demigod becomes a demon at the start of the final event. She starts tearing holes in the universe, apparently leading to one permeated with magic. You barely keep yourself from jumping into one long enough to see Sunset Shimmer spout some sentimental nonsense, hold up some kind of magical compact, and turn into something…
Well, there's only one way to describe it. She becomes great. She becomes powerful. She who once was a demon overcomes the new demon. Principal Celestia declares everyone winners, and you manage not to roll your eyes.
Twibright Spackle transfers to Canterlot. You try to distract yourself with the fundraising to go to Camp Everfree. You largely succeed.
Time to go to camp. Everyone hopes for a reprieve from the supernatural, including you and the lucky girls. (Even bad luck is still luck, and they've had nowhere near enough to balance out the good.)
One of the counselors tells a story of a forest spirit with all the believability of an urban legend. The next day, the grey girl crashes a boat into the dock. The pink one asks if you think it's said spirit.
She, one of the lucky ones, perhaps the one most oblivious to how mind-bogglingly lucky she is, asks you your thoughts on some possible supernatural phenomenon when she has personally vanquished demons, thwarted enchantresses, and snuck more pyrotechnics onto school grounds than you ever managed.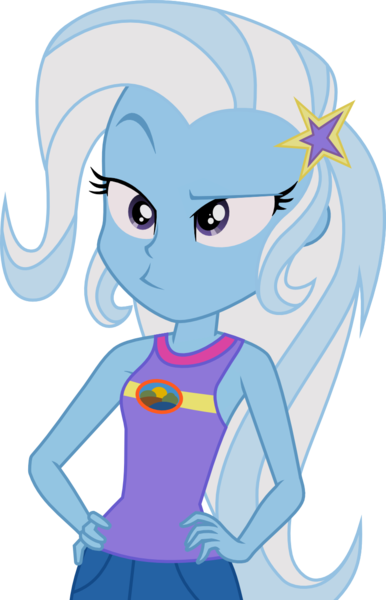 Yeah, I'd make that face too. To begin with.