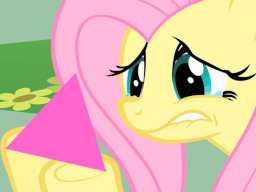 Fluttershy has a secret. A secret she's carried with her since fillyhood and never told anypony.
Fluttershy likes… mares. She likes mares in the way that mares are supposed to like stallions. None of the other mares like mares!
Is she weird? Is she broken? Is it curable? She's lived with these feelings for so long, she doesn't even know if she could live without them.
But maybe Twilight can help her. Or maybe… maybe Twilight can "help" her?
A cometragedy/tragecomedy one shot about the only gay pony that ever there was.
Chapters (1)