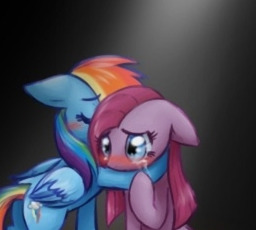 Commissioned by Professor_Wizard
Pinkie goes to Vegas and plays at some casinos. She knows about the no cheating rules for the games, but the rules don't say "No Pinkie Sense," therefore, she's good then, right?...
Wrong. Very, horribly wrong.
Pink, random chaos ensues. And other ponies are there to help, or hurt, it depends on their motivation.
Meanwhile, before Pinkie ever left, the other Mane Five made a pact to watch her, because they knew where she was going. So they made a spell with Twilight's help, that made them into different ponies to monitor unknowing Pinkie and keep her safe. But along with the spell, their personalities permanently change, causing damage to their destinies and souls. Just how much do they change, and just how much do their intentions wander?
Pinkie is branded as Equestria's top criminal by the time she gets back to innocent little Ponyville.
And just who are the Mane Five when they return? Will they ever be the same again?
Surely it must be just a coincidence though, right?
Wrong again...
Chapters (0)