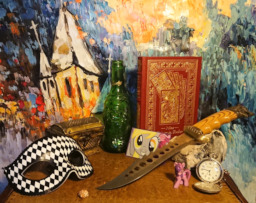 After saving Equestria for what seems like the hundredth time, the princesses send the mane six out on a vacation for some well-earned rest and relaxation. When Rainbow Dash and Twilight Sparkle head out for their weekly reading get-together, Twilight discovers something about her friend that Rainbow would rather have kept a secret.
---
For those wondering about the whole Kaleidoscope thing: the idea was to see how many totally different stories we could all make, all from a single image as the prompt—to see how inspiration manifests in and unique and wonderful ways among a diverse group of writers.
To be edited/rewritten at some point.
---
Take a look into the Kaleidoscope.
Chapters (1)