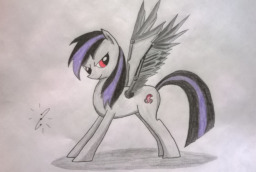 Source
My name Is Redmamba or Red for short. This is the story on what I did to earn my wings. Now here's what I will tell you. I am a dangerous animal trainer, I play with snakes, lizards, spiders and the like. I think you can see where this is headed. This is the story of how I messed up and ended with an AWESOME set of wings.
(Rated T for Teen because of poisonous snake bites.)
I want to thank e-tec for the drawing this was written for his pleasure... and unknowing.
Chapters (1)