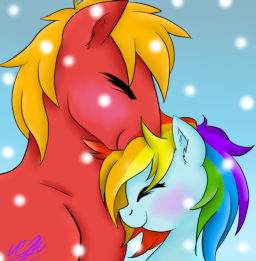 Source
Hearth's Warming Eve has arrived at Sweet Apple Acres with the usual flurry of snow, mirth, and frenzied preparations, but all seems to be well as Big Macintosh settles down for the night. The house has been cleaned—ready to be buried under a mound of colourful scraps and sweet crumbs—the farm is enjoying one of its brief periods of rest, and the most precious things in his life are snugly tucked up in bed, ready for a day of hard-earned merriment to come. All is well.
And then Dash says two words.
Fluff written as part of a Secret Santa for the MacinDash Community and finally delivered five months late. Thanks to Captain Unstoppable for helping to push this along.
Chapters (1)