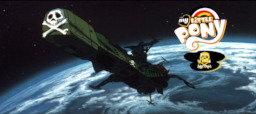 I'd heard rumors of people going missing while attending conventions around the world. Never crossed my mind until I'm whisked away to an anthro Equestria as one of my favorite anime characters after buying said anime ship in a bottle. Now I travel across space to protect my new home and the ponies I care for from both outside threats and within. Yo ho yo ho a pirates life for me!
Crossover with Mlp:fim and Space pirate Captain Harlock.
Mlp is owned by hasbro
Captain harlock is owned by leiji Matsumoto.
Chapters (3)